Happy 60th Birthday Tony Gwynn
In honor of Tony Gwynn's birthday today i decided to do an article looking back on his baseball career. Tony Gwynn played baseball for 20 seasons, all with the San Diego Padres. MLB Network will be honoring Gwynn all day.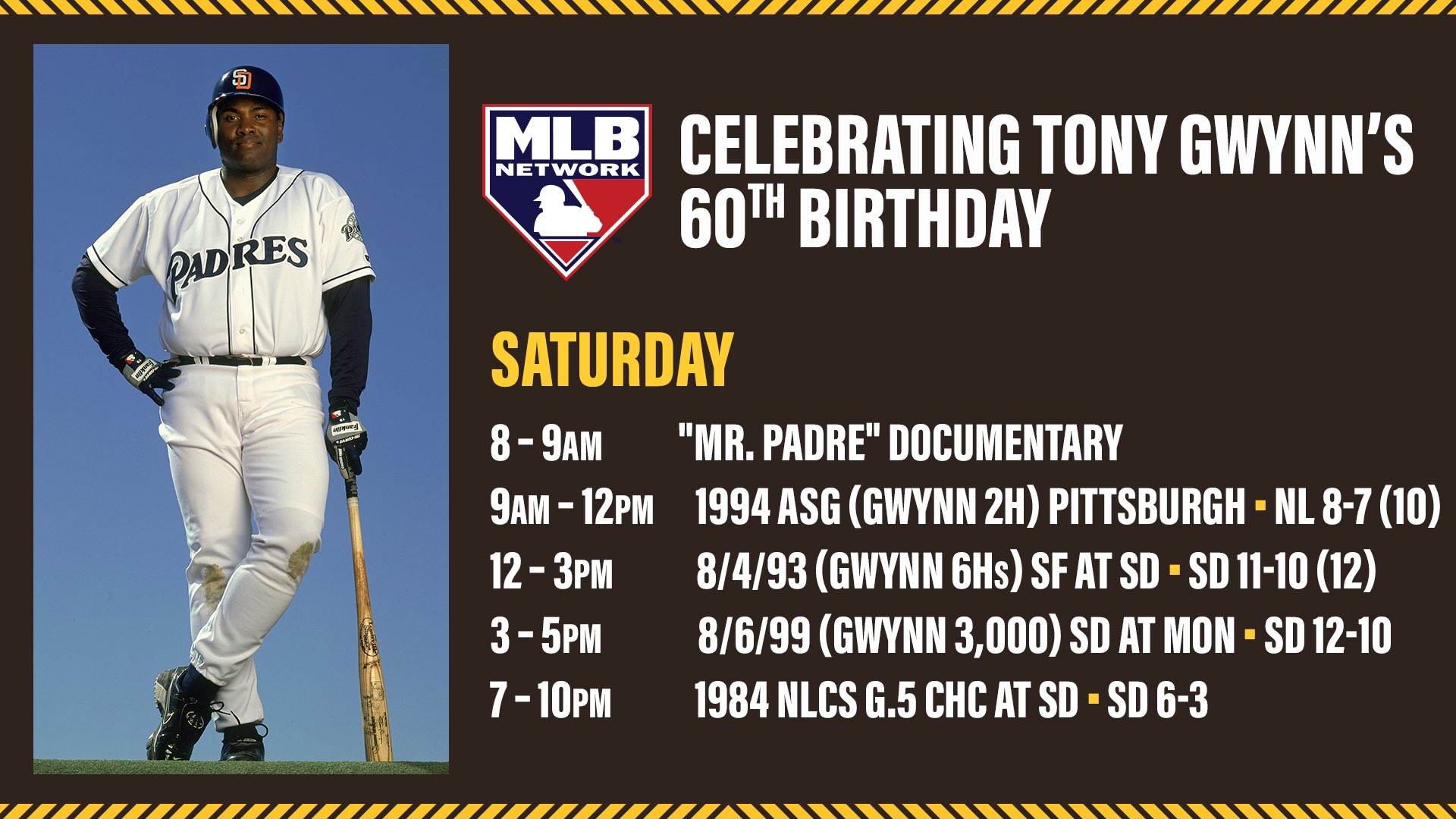 Gwynn played his college baseball at San Deigo State University. Also, Gwynn played basketball and was an all-conference player for both sports. But in baseball, he was All-American as well for the Western Athletic Conference. In the 1981 MLB draft, Gwynn was selected in the third round at pick 58 by the San Diego Padres.
San Diego Padres
In his first couple season with the Padres, Gwynn only played in 140 games. But in 1984 Gwynn game started to take off. In the 84 season, Gwynn batted .351 and stole 33 bases, as he led the Padres to the World series. Also, he won his first batting title and made the All-Star team. Known as a poor fielder in his college days, Gywnn worked on his defense to win his first gold glove in 1986. By the time 1987 came around, Gywnn batted .370 and stole a career-high 56 bases.
In the early 90s, a lot of Gwynn's seasons was ended due to injury, but he still held his average above .300. During the strike season, Gwynn made a push to bat .400, but when the season ended, he was batting .394. From 1994 to 1997, he won four straight batting titles. In 1998 the Padres had a magical run to the World Series; they won franchise-record 98 games. That season Gwynn hit .321 and hit for more power that season hitting 16 home runs. The Padres lost to the New Yankees in the World Series.
Gwynn missed 44 games in the 1999 season due to a calf injury, but still managed to hit .338, and he made his final All-Star team. Also, in the 1999 seasons Gwynn got his 3,00 hit against Montreal Expos pitcher Dan Smith, Gwynn had four hits in that game as well.
Final Act
In Gwynn's final two seasons with the Padres, he dealt with a lot of injury problems. In 2000 he had a left knee injury and played in 36 games. He struggled that season batting 1.96, but between May and June, he batted .408 to got his average up to .323 before having surgery on his knee. When 2001 came around it was Gwynn final season that season he dealt with more injuries, he played in 71 games and batted .324 and retired at the end of the season.
Gwynn finished his career with 3,141 hits and a lifetime batting average of .338. He batted over .300 19 times and over .350 seven times. Gwynn was not a home run hitter; he only hit 135 homers in his career. Early in his career, Gywnn could steal bases, and he ended his career with 319. The former Padre star won eight batting titles, seven Silver Sluggers Awards, five Gold Gloves, and was 15-time All-Star.
Gwynn was a contact hitter, who was great at hitting the ball all over the field, taking what the pitcher would give him. His bat control was out od this world. Tony Gwynn was inducted to the Baseball Hall of Fame in 2007, getting 97.61% of the votes. Gwynn passed away in 2014; it was great to watch you hit at the plate R.I.P Tony Gwynn.